Relevent Sports anuncia venta boletos Honduras Inglaterra en Miami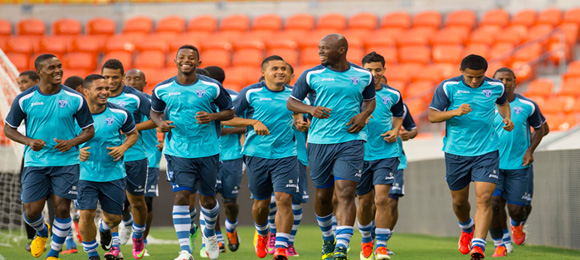 Aunque la Federación de Honduras continúa empeñada en no querer hacer oficial de parte de ellos el duelo entre Ingleses y Catrachos en Miami, la compañía organizadora del evento, anunció cuándo y cómo se podrán adquirir los boletos para los encuentros en el Estadio Sun Life de Miami Gardens.
Relevent Sports fue la compañía que organizó el exitoso partido entre Honduras y Brasil el pasado 16 de Noviembre que dejó además, una marca récord de asistencia para un duelo de fútbol celebrado en dicha instalación, sede de la Universidad de Miami y los Dolphins de la NFL y hasta hace un año, de los Marlins de las Grandes Ligas.
COMUNICADO EN INGLES
NEW YORK, NY (Wednesday, January 16, 2013) — Relevent Sports today announced that the English national team will face Ecuador on Wednesday, June 4 (3 p.m., ET) and Honduras on June 7 (4:45 p.m., ET) with both matches taking place at Miami's Sun Life Stadium.  The matches will be part of England's final preparations for the 2014 FIFA World Cup where it will open against Italy on June 14 in Manaus, Brazil. 
Ticket information for both matches along with unique fan packages for England's stay in South Florida will be announced in the near future.
«We are excited to bring two more top-quality international matches to Miami," said Relevent Sports CEO Charlie Stillitano.  "Miami continues to be a premier soccer market in this country and we have no doubt that the area's fans will come out to watch England prepare for the 2014 World Cup against two teams that will also participate in Brazil."
England recently qualified for its 14th World Cup, finishing first in Group H of European Qualifying.  England, coached by Roy Hodgson, is led by English Premier League stars Wayne Rooney (Manchester United), Steven Gerrard (Liverpool), Frank Lampard (Chelsea) and Daniel Sturridge (Liverpool). 
Sun Life Stadium is no stranger to high-level international soccer matches.  On November 16 of the past year, 71,124 fans witnessed Brazil defeat Honduras 5-0 in a match that set an attendance record for soccer in Florida.
Ecuador recently reached its third World Cup in the last four attempts after finishing fourth in South American qualifying.  The team, coached by Colombian Reinaldo Rueda, is led by Antonio Valencia (Manchester United), Jefferson Montero (Morelia) and Felipe Caicedo (Lokomotiv Moscow).
Honduras qualified for its third World Cup last year, finishing third in the CONCACAF region.  Los Catrachos, featuring the Boniek Garcia of the Houston Dynamo and Wigan Athletic's Roger Espinoza, are currently ranked 42nd